6 High-Tech Newbies for Your Home
Posted by Lisa Biddle on Friday, February 1, 2019 at 10:45 AM
By Lisa Biddle / February 1, 2019
Comment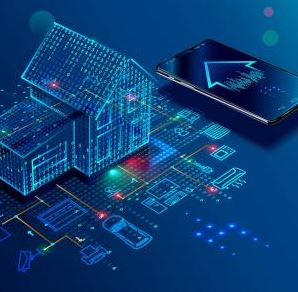 Each January, the annual Consumer Electronics Show (CES) showcases cutting-edge technology by companies from around the world. This year, home automation showed up in a big way, including these unveilings for tech-loving homeowners.
1. Smart Mirrors
As if smartphones and smart televisions weren't enough, mirrors are also becoming a "smart" product, including three very different options:
Capstone Connected Home is launching a Google-enabled smart mirror

that responds to voice or a touch-screen keyboard, like your favorite tablet. Watch videos, view your schedule, check traffic and weather, access Google Drive, and type out an email while getting ready for work! (Available soon; price not disclosed.)
A different type of smart mirror from LG scans your body and uses artificial intelligence (AI) to recommend the most suitable clothes from different categories (work, casual, formal). Select among suggested offerings and have items delivered to your door. (Still in the concept stage.)
A third smart mirror from Artemis uses AI to recommend make-up and hair styles, which are displayed over your image, providing a preview of what looks best. More than 50 health, beauty, and wellness integrations are expected. The CareOS mirror

is scheduled to hit the market later this year with an initial price tag of $20,000!
2. A "Disappearing" Television
Want to watch television on a large screen, but don't want that large screen monopolizing your living space? LG has been playing with flexible screens for several years but is finally bringing one to market.
Its 65-inch 4K version OLED television rolls up and down from a base that includes a high-end built-in sound bar. There's also an option to display the top fourth of the screen to view music controls, smart home gadgets, etc. It's expected to become available this spring at "premium pricing."
3. A Peephole Smart Camera
Ring, the makers of several popular video doorbells, are adding a Door View Cam that converts a front door peephole into a smart security camera. Like other Ring devices, the camera includes video recording and a two-way intercom that connects to your smartphone. (Available later this year for $199.)
4. Robot Vacuums with AI
Need a smarter robotic floor-keeper? The Deebot Ozmo 960 from Ecovacs uses artificial intelligence and visual interpretation (AIVI™) to create a vacuum that won't suck up the wrong things while cleaning up after you. (Available later this year; price not disclosed.)
5. An AI-Infused Oven
Want to throw your food in the oven without deciding how it needs to be cooked? Juno launched the first smart oven, and now Whirlpool has a competing countertop product that identifies foods, selects the appropriate cooking temperature, and sends cooking status notifications. It also has an in-oven camera and uses voice activation via Google Assistant and Amazon's Alexa. (Limited quantities available for preorder at $799.)
6. Not Your Run-of-the-Mill Smart Light Bulb
Nanoleaf already makes triangular and square light panels but is adding a hexagon-shaped smart light to its Canvas line. The panels can be arranged in endless combinations to create programmable wall (or ceiling) art that reacts to touch or, in rhythm mode, will respond to music.
Use them to add ambient lighting schemes to any room or play simple games (Simon, Whack a Mole, Candy Crush, etc.). The new hexagons will be available later this year, presumably priced similarly to current Canvas starter kits. ($250 for nine tiles)
These are just a few of the many new and improved consumer electronics products releasing this year and beyond. Other categories include new smart smoke and CO2 detectors, smart power strips, and smart speakers.